Do you have seasons in your life when prayer becomes difficult?
I sometimes do.  When so much is expected of me and the days get jam-packed with parenting, marriage, homemaking, work, and ministry, my mind turns into a rabbit maze. If that sounds anything like you, then today's post is for you.
So, how does one find time to pray when schedule is a challenge?
Give yourself extra heapings of Grace
Loads and loads of it.
I hear you.  You love Jesus and you long for the next moment when you can have a meaningful prayer time with the Lord.  Uninterrupted.
Then, the baby wakes up even before you could start.  Your toddler yells for help in the bathroom.  You get an urgent phone call from work. And oh boy, the dishwasher stopped working again!  Don't get discouraged if you fail to do your quiet time today.  Give yourself some grace.  Try again later while the baby takes a nap or perhaps when you are preparing dinner or doing the laundry.
God loves you.  He is a good, good Father.  He will be there waiting.
Weave prayer naturally in your daily tasks
Pray wherever, whenever. 
The Bible reminds us to pray continually (1 Thessalonians 5:17).  It is not limited to only one event.
Prayers are not meant to be spoken at a specific time of the day to be authentic.  Give God five minutes – ten, fifteen or twenty. Whatever you can. And when you get that chance, give Him your best. Just you.  Heart focused on Him.
Most of the heartfelt, sincere and powerful prayers I've had were prayers uttered in moments when I put my toddler to bed; when a parking spot is a challenge; when emotional wounds are fresh or when I'm anxious.  Spontaneous little chats with God broken up into hundreds of praise, worship, and requests throughout the entire day while I'm in the shower, in the kitchen, driving to work, sitting at my office desk, in the bus or walking.
These may seem mundane but these are moments that brought me closer to the Lord.
Journalize
There are times when I need to write down prayer points for other people and myself.   I use a journal to organize my rabbit-maze thoughts.  I was briefly fascinated with bullet journals last year but it was way too much for me to maintain. It was fun at first but I tend to focus on doodling and prettifying pages rather than praying.
Then I moved on to explore the web for printed prayer journals but did not find anything that's undated and within my budget.
So, I thought, why not create a printable prayer journal that I can customize and print to my liking.  What a perfect opportunity as well for me to start learning that graphic design software I've been procrastinating on.
After a few weeks, by God's grace, Beloved Prayer Journal was born.
So thrilled to share this with you!  Let's take a peek, shall we?
The first page of the journal starts with Adoration, Confession, and Thanksgiving all in one page.  This is helpful as it gives me a quick prompt for starting my prayers.  I have everything in one place on bullet points.  No need to flip through gazillions of pages.
The next pages are for Supplication which is divided into headings: husband, children, work, ministry and so on and so forth.  This helps me remember specific prayer points for each person or group. A lot of times I have told a friend that I would pray for them and prayed once then forgotten.
With a prayer journal, I can keep track of prayer requests.  That way, I won't forget and continue to pray for them daily.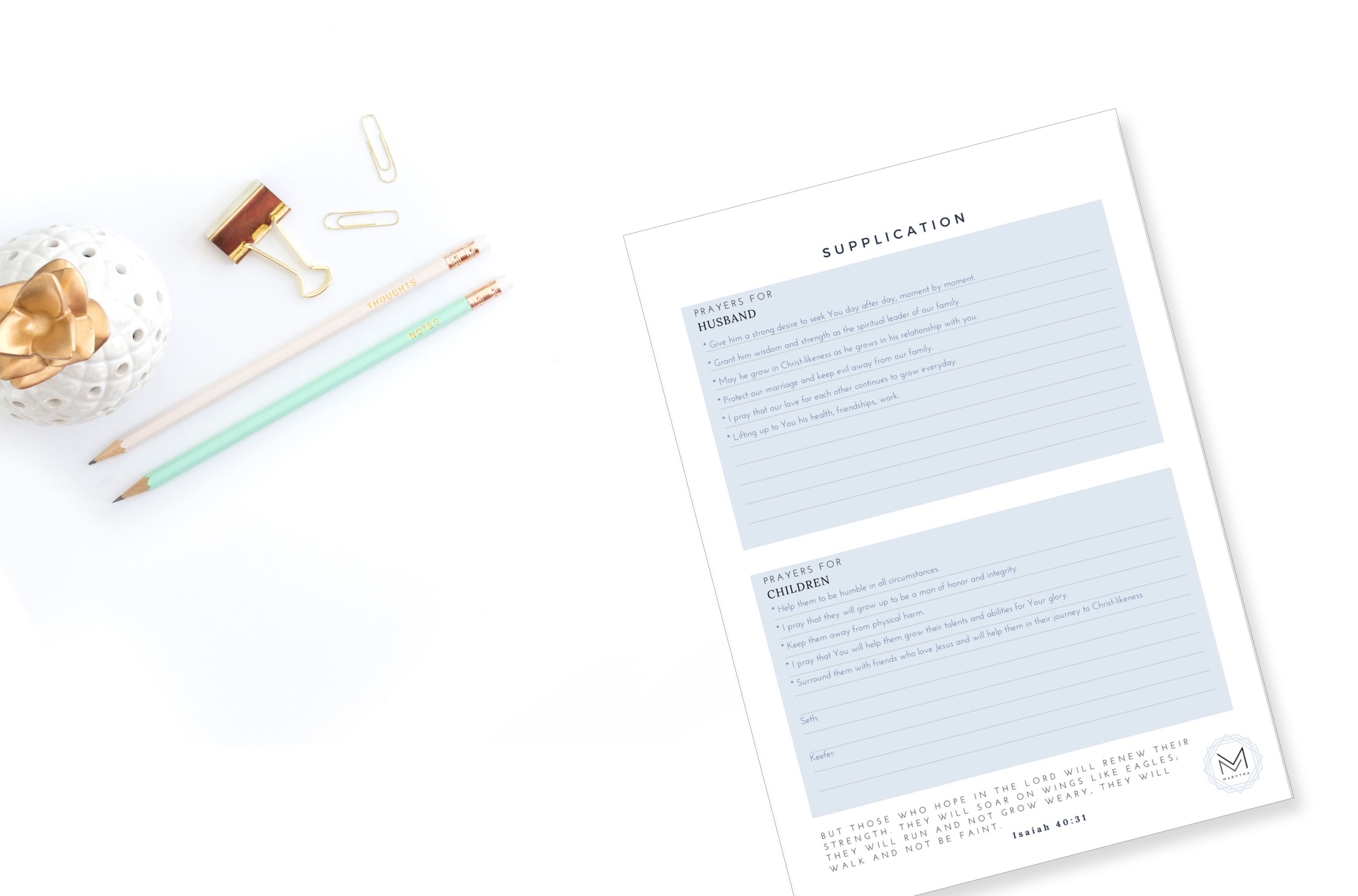 My most favorite space in my journal is the answered prayers.  This is where I am constantly encouraged and reminded how faithful God is.  1 John 5:14-15 says,
This is the confidence we have in approaching God: that if we ask anything according to his will, he hears us. And if we know that he hears us—whatever we ask—we know that we have what we asked of him.

Lastly, I have added a full-page for weekly memory verse.  One of the things that I want to improve on this year is to use Scripture in my prayers.  I would pick a verse and personalize it by inserting the names of people I pray for.  This helps me revitalize my prayers and draw focus on God's will rather than my immediate concerns.
Have you ever considered creating a prayer journal but don't know where to start? Download our FREE printable prayer journal to make your prayer time organized and a little bit easier.
What you'll get:
10 pages of High Resolution (300 dpi) PDF files for printing
Prayer Guide using A.C.T.S. method to help structure your prayer time
Dedicated Prayer Cards
A full-page for weekly Memory Verse (God's Word in my Heart)
2 extra blank Prayer Cards
A full-page for Answered Prayers
Journal Features
Monthly open date format
Beautiful minimalist design
Left and right margins for punching and binding.
Light colors for ink friendly printing.
Print as many as you want for personal use and in a variety of sizes (US letter size, A4 and A5) either at home or at a print shop.  May I ask that you do not host the file on anywhere other than on your personal computer, sell or redistribute whether in print or digital format.
Feel free to share this free printable prayer journal with others by directing them to this post or click on the below social media icons to share.
I'm praying that this will help you be more intentional with your prayer time and enjoy God's abiding presence as it did for me.  I would love to see photos of your journal and hear your stories.  Please tag me on Instagram @marythablog or comment below. 
Click here to SUBSCRIBE and receive the prayer journal straight to your inbox. Happy journaling everyone!
Soli De Gloria